Summer Street Press
Summer Street Press produces educational books for young readers, students, and teachers.
Since we started in 1997, our mission has been to develop books that students, teachers, and parents enjoy.
How do we do this? By creating materials that engage students. We believe that if students enjoy a book, learning will follow. Good books don't substitute for good teachers, but they can make a teacher's job easier and more rewarding.
Of course, we also make sure that our materials reflect up-to-date scholarship, curriculum standards, and practical classroom know-how.
           New Book Series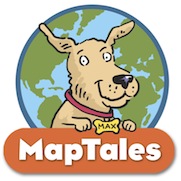 An adventure in map skills!